Pre-assembled and low-ballast: PV project in Schwerin with D-Dome 6.10
14/12/2021
Schwerin, Germany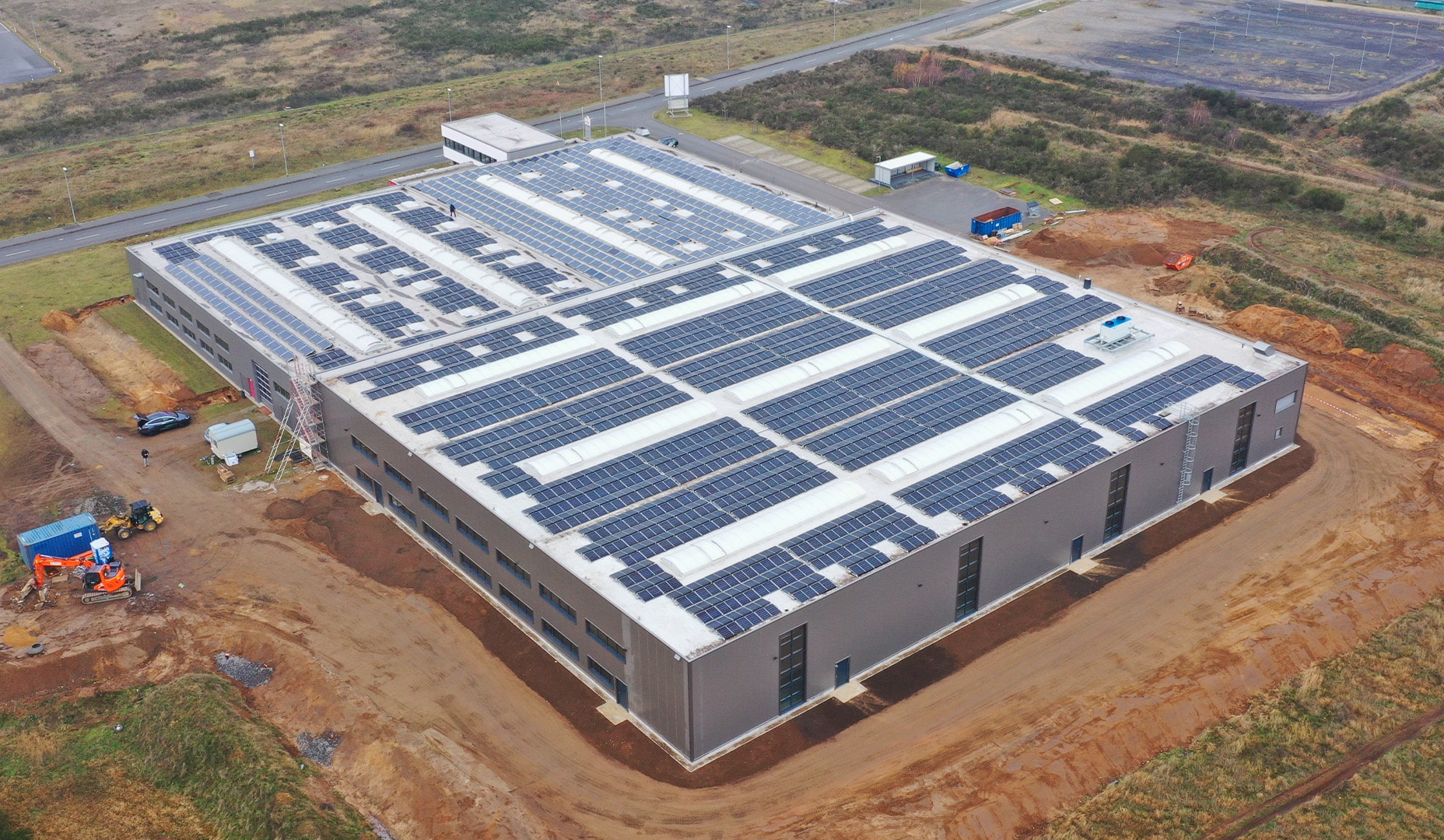 Installation information
Location:

Schwerin, Germany

Building:

commercial halls

Commissioning:

March 2021

Nominal output:

541,28 kWp

Useful life:

25 years

Snow and wind load zone:

2

Roof covering:

membrane

System:

D-Dome 6.10 Xpress

Building height:

8 m

Roof pitch:

1°

Number of modules:

1.592 modules

Use of electricity:

self-consumption and feeding into the grid

Partner:

Greenmile
Optimised through intelligent sector coupling
The 1,592 solar modules are installed in an east-west orientation and thus generate solar power evenly distributed throughout the day, which the metalworking company uses directly to operate machines in production. "The basis of the planning for this project was a forecast including the company's load profile from last year and a solid, holistic view," says Michael Höchst, managing director of Greenmile.
"Here in Schwerin, the machines need a lot of electricity," he continues from Hamburg. "In other companies where this is not the case, we implement sector coupling. In new buildings, we implement a heat supply with heat pump and underfloor heating right away. In existing buildings, we combine the solar system with a combined heat and power unit. The controlling department is responsible for energy monitoring in all of these projects. Here, all energy flows are recorded and balanced: but also gas, heat or building temperature are part of the focus. Ultimately, this monitoring data helps to confirm our forecasts or to identify optimisation potential at the customer's," Höchst explains.
D-Dome 6.10 Xpress
The two-sided D-Dome 6.10 system in the pre-assembled rail set version, the so-called Dome 6 Xpress, was used.

Installation is quick thanks to the simple click system for the peaks, tool-free installation thanks to new plug-in bolt technology and shear-smooth EPDM matting.
Dome 6 System
More impressions of the PV system
Folie
Commercial
Flat roof
D-Dome 6.10 Xpress
Membrane
Sector coupling